MAXNET II Modular Optical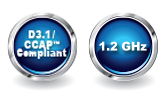 ATX's MAXNET II, Platinum Series product line (Patented) provides a fully integrated RF & Optical Signal Management solution. MAXNET II provides users with an unlimited number of module configurations to choose from so that they can easily implement their HFC network in any manner they desire. The optical product lineup includes 1310/1550 optical forward path transmitters, and optical receivers.
Key features include:

Ultra-dense MCX connector-based RF/optical signal management platform (limited F connector options as well)
Greater than 200% rack space savings over legacy management solutions
Significantly reduces network lash up complexity with miniature coaxial cable
3RU active chassis can accommodate both active & passive modules – up to 24 single-width actives or passives (narrowcast amplifiers, optical receivers) or 12 dual-width modules (optical receivers, optical transmitters)
SNMP v2c and web browser based monitoring & control come standard with each active chassis without sacrificing any module slots. Alarm notification by SNMP traps and/or email.
ALL active modules are hot-swappable
MAXNET II Product Overview Pdf

Optical Return Path Receivers (Single-width)
In a redundantly powered 3RU chassis, offerings include:
Up to 20 single-width RPRs with 8 MCX outputs and individual port attenuation
Up to 20 dual, low noise RPRs (40 receivers) designed for RFoG applications as low as -28 dBm
MAXNET II Ultra-dense Active Optical Products Specifications Pdf
Power Supplies
Hot-swappable, 110, 220 VAC or -48 VDC to 24 VDC power supply modules are available. Redundancy is automatically implemented when two power supplies are engaged into the active MAXNET II chassis and remote powering is accommodated. The same power supply module is used for both the standard and ultra-dense active chassis (MP3*A/MP3BAS).
MAXNET II Power Supply Specifications Pdf


Chassis & Cable Management Options
MAXNET II is offered in a compact 3RU chassis (passive and active versions available). Each chassis holds up to 24 single-width modules or 12 dual-width modules (any combination of modules is possible). The modules push and lock into the chassis so no mounting hardware is necessary. Also available are 1RU passive chassis.
A variety of cable and fiber management options are offered to complete the line.
MAXNET II Chassis & Cable Management Options Pdf
Connectors/Tools, Terminators & Optical Attenuators
A combination of MCX, F, and BNC connectors for miniature coaxial cable enables users to easily interface between the MCX-based MAXNET II platform and legacy F and BNC equipment. MAXNET II's optimized RF performance, non-blind entry compression MCX, F and BNC connectors and terminators allow for easy field installation.
MAXNET II Connectors/Tools, Terminators & Optical Attenuators




Accessories
ATX has developed several accessories for the MAXNET II, Platinum Series Platform. Items include MCX to F and BNC adaptors, plug-in pads and EQs (along with an insertion/extraction tool), inline MCX pads, mini cable and fiber installation/extraction tools, and replacement fans.
MAXNET II Accessories Pdf
Status Monitoring & Control
SNMP-based (HMS compliancy) and web-based monitor and control functions are enabled for all active modules using software developed in house at ATX's software development facility. ATX's MAXNET II products use the HMS standard SNMP MIBs, published by the SCTE http://www.scte.org/standards/. Any retail SNMP manager software or the embedded web page interface can fully control these products without any proprietary software from ATX.
Ordering Information
Each pdf file above contains overviews, specifications, and ordering information.