SignalOn Series Modular RF & L-Band
ATX Networks has acquired the RF Worx SignalOn Series RF and L-Band signal management product lines from ADC as of October 30, 2009.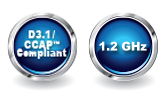 ATX's SignalOn Series (Patented), combined with the innovative cable management of the newly-designed chassis, provides engineers with a variety of products to simplify the headend signal management challenge. The SignalOn Series offers specifications that exceed CATV industry requirements for insertion loss, port-to-port isolation, frequency response, and noise figure. The line consists of an array of passive and active modules including splitters/combiners, DCs, L-Band splitters, diplex filters, as well as amplifiers, power supplies, and RF switch modules.
Key features include:

High density
High quality performance (5 MHz – 1 GHz; selective 1.2 GHz modules are now available)
Patented make-before-break attenuator pad design for hitless signal balancing
Front access to clear pad covers and patented pad guides
Test point monitoring on many modules
Multiple chassis configurations
Connector options: F and BNC
Several amplifier offerings
RF/power redundancy
100% quality control
Chassis & Cable Management Options
The SignalOn Series offers passive (5RU, 2RU, 1RU) and active powered chassis (5RU, 2RU). Cable management rings are also available.
SignalOn Chassis & Cable Management Options Pdf
Power Supplies
Hot-swappable, universal 100/110/240 VAC or -48 VDC power supply modules are available. Redundancy is automatically implemented when two power supplies are engaged into the active SignalOn chassis.
SignalOn Power Supply Specifications Pdf

Amplifiers
Hot-swappable forward path amplifiers are available with GaAs technology and feature non-service-affecting gain and slope controls. Operation is from 50 MHz to 1 GHz (1.2 GHz modules are now available). 20 dB or 30 dB gain options are offered. The 5-200 MHz return path amplifier offers a standard 22 dB gain, low distortion and noise, and two test points.
SignalOn Amplifier Specifications Pdf

RF Switch Module
The SignalOn RF Switch module accommodates redundant amplification. The primary function of the module is to monitor the RF signal gain of the operating primary input, and switch to the backup input if the gain of the primary path rises, or falls below the pre-set customer selected threshold. Switch status, failure LEDs, and RF level bar graphs are mounted on the front panel. Switching threshold: /- 3 dB or /- 6 dB, and alarm contact closures are located on the rear of the module.
SignalOn RF Switch Specifications Pdf
Passive Modules
Passives include splitting/combining modules (8, 4, 2, dual 4-way, & triple 2-way), DC modules, diplex filter modules, and a conditioner module. Some passive modules have front access to make-before-break attenuation along with front access to test points.
SignalOn Splitter/Combiner Module Specifications Pdf
SignalOn DC Module Specifications Pdf
SignalOn Broadcast/Narrowcast Combiner Module Specifications Pdf
SignalOn Diplex Filter Module Specifications Pdf
SignalOn Conditioning & Monitor Module Specifications Pdf
SignalOn L-Band Satellite Splitter Module Specifications Pdf
Accessories
Several accessories are available for the SignalOn Series. Items include cable management rings, pads and EQs, upgrade and conversion kits, and other miscellaneous items.
SignalOn Accessories Pdf
Ordering Information
Each pdf file above contains overviews, specifications, and ordering information.