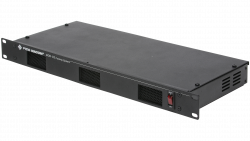 MOR-CS
Headend Cooling System
Features
Specs & Order Info
Other Documents
Increases electronic equipment longevity! by reducing equipment temperature 2-5 degrees above ambient

Large mesh covered flow-channels allows for en extremely quiet operation

Low noise brushless blowers allow for an extremely quiet operation

Reduces dust buildup in rack and on equipment

Circuit protected power supply protects from current overload

Auxiliary AC outlet for convenience

Maintenance-free, energy efficient design for years of low cost operation

Rack mount design fits standard 19" EIA rack width

Compact 1 RU high

1 Year Warranty

UL-approved external universal AC power adapter for domestic and international use
Specifications | Ordering Information
Specifications
AC Power Requirements
100-240V, 50/60Hz, 0.6A
DC power requirements
Rated Fan Voltage
12Vdc
Operating Voltage
8-12Vdc
Fan Mechanical Specs
Fan Speed
2500rpm
Max. Air Flow
27.99m3/H
Max. Air Pressure
12.13CmH20
Operating Temperature
0° to 50°C
Dimensions
19" (W) x 7.5" (D) x 1.75" (H)
Weight
6.15 lbs.
This data sheet contains branding from Pico Digital, a recent ATX subsidiary.
Stay Connected
Get the latest info on all of ATX's solutions, new products and events.