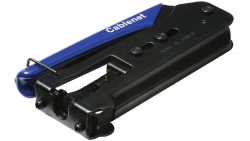 CCT-STQ-P
RG59/6 Compression Tool (21.0mm)
Features
Specs & Order Info
Other Documents
Compatible with all TrueSpec or similar F56 or F59 compression type connectors

Constructed of 14 ga. steel for long-term durability

Comfortable molded plastic handle

Convenient lightweight and compact pocket size

Compression travel length: 21.0 mm (CCT-STQ-P)

Overall size: 5" (L) x 2.5" (W) x 0.75" (H)

Weight: 0.60 lbs.
This data sheet contains branding from Pico Digital, a recent ATX subsidiary.
The best in high performance.
ChromaFlex offers high performance, versatile and space-efficient optical transmission. Maximize performance and wavelength capacity with NEW dual/triple/quad direct modulated transmitters all "powered by ATX". Learn more about this product.>