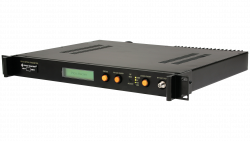 PFT-12
(12dBm or 16mW) 1310nm Optical Transmitter
Features
Specs & Order Info
Other Documents
Wide bandwidth! 54~860MHz, high-performance single-mode 1310nm optical fiber transmitter

Supports analog and QAM digital applications

Wide range laser options, from 6dBm to 14dBm (4mW to 26mW), for multiple broadband applications

Optical power monitoring of input RF and laser status

RS232 port

Manual or automatic gain controls RF input level

Input voltage between 90-260Vac

Unit can be used for NTSC and PAL systems

Front panel RF test port -20dB

Low power consumption
Specifications | Ordering Information
Specifications
Optical Output Power in dBm
6, 8, 10, 12, 14 dBm
Optical Wavelength
1310nm
Laser Type
DFB
Optical Connector Type
SC/APC (FC/APC Optional)
RF Frequency Range
50~860 MHz
RF Input Level Range
+15 to 20dBmV
RF Input Impedance
75Ω
In-Band Flatness
±1dB
Input Return Loss
>15dB
Carrier-to-Noise
(CNR)* >50dB
Composite Second Ordering
(CSO)* >60dB
Composite Triple Beat(CTB)*
>65dB
AGC Control Range
±5dB
MGC Control Range
±5dB
Power Supply Range
90-264 Vac
Power Consumption (typical)
30 watts
Operating Temperature
0° to 50°C
Storage Temperature
-20° to +65°C
Relative Humidity
<10%
Dimensions
19" (W) x 13" (D) x 1.75" (H)
Weight
9.15 lbs.
This data sheet contains branding from Pico Digital, a recent ATX subsidiary.
A new generation at work.
The I-HUB platform is ideal for minimizing fiber for Node+0, hub eliminations, node segmentations and RFoG, or reclaiming existing fibers for additional broadband subscriber narrowcast services and revenue generating business services. Learn more about this product.>