Video Processing & Distribution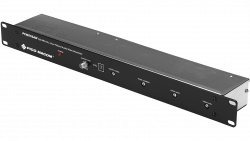 PCM55SAW
550MHz Channelized PLL SAW-Filtered A/V Modulator
Features
Specs & Order Info
Other Documents
55 dBmV minimum output for a 64 dB in-band carrier to noise ratio provides superior picture quality

82 Channel frequency range 54 MHz to 550 MHz (CATV 2~13, A1~A5, A~PPP)

SAW filtered IF for superior adjacent channel performance enables drop-in channel expansion

BTSC Stereo compatible pre-emphasis disable switch provides pass-through for stereo signals

Front panel controls and a convenient -30 ± 10 dbMv output test point

IRC and HRC offsets available for frequency settings in systems using offset channels

Auxiliary AC outlet for convenience

Optional PAL format channels available

UL Approved
Specifications | Ordering Information
Specifications
Output Frequency Range
PCM55SAW
54 MHz to 550 MHz
Tuning Channelized
RF Output Level
55 dBmV
Carrier to Noise
(In-band)
PCM55SAW
64 dB
Carrier to Noise
(Out of band)
PCM55SAW
67 dB
Spurious Output
> 65 dB
Video Frequency Response
± 1.5 dB
Video Signal to Noise
60 dB
Audio Input Type
Monaural/MTS Baseband
Audio Frequency Response
50 to 15,000 Hz
Video Input Connection
75 Ω F-Female
Audio Input Connection PCM55SAW
600 Ω F-Female Unbalanced
RF Output Connection
75 Ω F-Female
Voltage Input
115VAC
Power Output Receptacle
Yes
Dimensions
19″ (W) x 3″ (D) x 1.75″ (H)
Weight PCM55SAW
3.6 lbs.
This data sheet contains branding from Pico Digital, a recent ATX subsidiary.
The best in high performance.
ChromaFlex offers high performance, versatile and space-efficient optical transmission. Maximize performance and wavelength capacity with NEW dual/triple/quad direct modulated transmitters all "powered by ATX". Learn more about this product.>